Matakohe
24 Church Road, Matakohe, 0593
Matakohe House is a Boutique Bed & Breakfast Hotel and is the closest accommodation to the famous Kauri Museum. The accommodation includes a fully licensed restaurant for evening dining and a cafe open daily. Matakohe Ho ...
More Info...
Jacqueline Busca and Daniel Pucci

45 Barlow Lane, Matakohe, New Zealand
Moewaka Villa B&B is a turn-of-the-century Kauri Villa set on five acres, surround by the Matakohe River inlet, with views of Kaipara Harbour. The villa is a short walk from Matakohe Kauri Museum and seven kilometres from Paparoa. We offer 1 quee ...
More Info...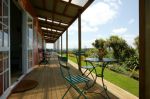 703c Tinopai Rd, Matakohe, New Zealand
An eco-friendly Northland Kaipara country retreat 2 hours north of Auckland on the Kauri Coast -10 minutes from the Matakohe Kauri museum. Petite Provence quality Matakohe Bed & Breakfast accommodation overlooking rolling farmland and the ...
More Info...