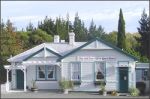 PO Box 79, Paparoa, New Zealand, 0543
www.oldpostofficeguesthouse.co.nz
The gorgeous Paparoa Post Office has been serving the community since 1903. Situated on Northland's Kauri Coast, it's the ideal place to stay and explore the fascinating history of the Kaipara Harbour, or simply to relax with native birds ...
More Info...

145 Petley Road, Paparoa, New Zealand, 0571
www.facebook.com/OtamateaHarbourCare
The Kaipara Harbour is suffering from damage caused by excessive sediment, nutrients and harmful bugs getting into it. One way to address this is to fence and plant up riparian areas and erosion-prone land. This can also result ...
More Info...

Quilters
More Info...